STERLET ROE AND ITS BENEFICIAL PROPERTIES
07/23/2019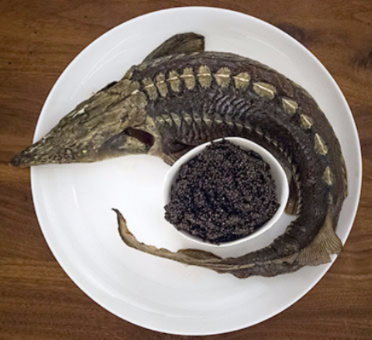 STERLET
Few people in the world do not like black caviar. This delicacy takes one of the first places among the most refined and most expensive dishes in the world. It has long been in Russia, at the royal and boyar feasts, treated the guests with this luxurious snack. Today, at any high reception, the luxury banquet is sure to have this product, which is synonymous with luxury. Although the first place is occupied by beluga sturgeon and sturgeon caviar, true gourmets know that the caviar of sturgeon - one of the smallest representatives of sturgeon - can give no less taste pleasure. You can be convinced of it, having bought it in our online store, - 1 kg or smaller packing; - from us, you can pick up that option which will suit you.
One of the most interesting types of black caviar
The contents of different tins with caviar of the same (even the highest) grade is different. And not only by appearance (grain size, color) but by taste. In this case, we are not talking about the ingredients. The fact is that different sturgeon species differ in their qualitative and quantitative compositions according to the content of proteins, fats, vitamins, macro- and microelements. Therefore, the taste, of course, is different. But, regardless of the color and size of the grain, this product is an exquisite delicacy. Caviar of sterlet is a worthy representative of the caviar world, which is necessarily present in the assortment of any trade "caviar house" and a respectable store selling "seafood". Our online store also proudly offers its customers not only common beluga and sturgeon but also top quality sterlet caviar.
The exquisite taste of caviar sterlet
The strengths of this product are not in appearance. Caviar sterlet usually has a dark gray color, although its color can vary from a light shade to a rich dark color. Eggs, sometimes rather soft, sensitive, are small in size (about 2 mm). However, do not let size bother you: although they are much smaller than beluga and sturgeon seeds, they have a special taste. And even if the feeling of elasticity does not occur, a pronounced taste can not fail to impress. He is not confused with anything. Caviar sterlet has a delicate taste; you can buy it from us - a truly elegant delicacy that will give you real pleasure, even if you are not a real gourmet.
Democratic cost of sterling delicacy
Another undoubted advantage of this gastronomic delicacy with a delicate skin is its value. Even without knowing exactly how much a kilogram of black caviar costs, everyone knows that this product is far from cheap. In addition, there are some of its types, the price for which literally "rolls over." In this regard, sterlet caviar will give odds to any similar sturgeon products. See for yourself: in our store, you can purchase a jar of pasteurized "sterlet" caviar of the highest quality, without ruining your family budget.